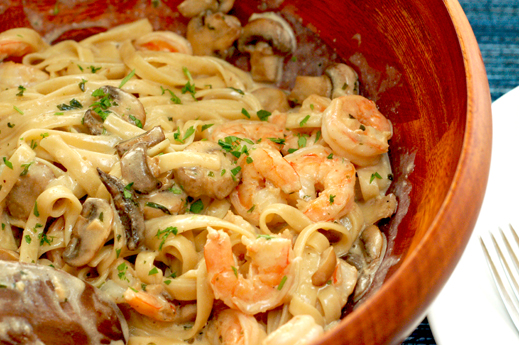 I LOVE pasta! I was in the mood for a good pasta the other night and went on a search to find a good one I could make at home. I found this one from Chaos in the Kitchen on Pinterest and gave it a try.
I made a few changes to the recipe. I didn't have any shrimp on hand so I substituted chicken. I also did not have fresh parsley, basil, or garlic cloves. So, i used parsley and basil seasoning that I had in my spice rack. For the garlic, I had a thing of minced garlic in my fridge and used that.
This was a fast recipe to make and it was a HUGE success! Everybody loved it! Next time I definitely want to try it with shrimp.
This was a great restaurant style pasta that I could make at home with pretty much the things I already had on hand. This is a great way to go to save money instead of going out for a good pasta! This pasta cost me under $5 to make!
-chelz