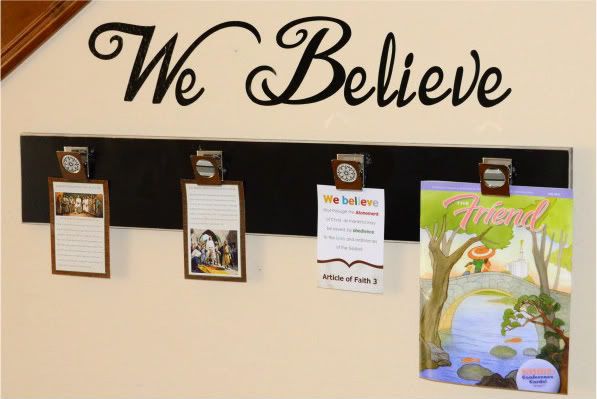 I've wanted to do something like this in our home for a while now -- a place to display some of the scripture stories we've been learning about as a family. So I found a scrap piece of wood in the garage that was the size I was looking for. I spray painted it black and then used sandpaper to rough up the edges a little.
I found these jumbo clips at Walmart and thought they were perfect. I tried gluing them on with a hot glue gun but for some reason they didn't hold. So I used Gorilla glue instead and that worked perfectly.
I hung up the board and used my Cricut to cut the words "We Believe" in black vinyl and applied it to the wall. Then I printed up some scripture stories and Articles of Faith cards from
Simply Fresh Designs
(which are sadly not available any more!). Now each morning after we read our scriptures the story goes on the clip to help us remember. And whenever we read a story from The Friend magazine we put that up there as well. I'm hoping that as we see this every day it will remind us of our faith and our desire to learn more about our Heavenly Father and Jesus Christ.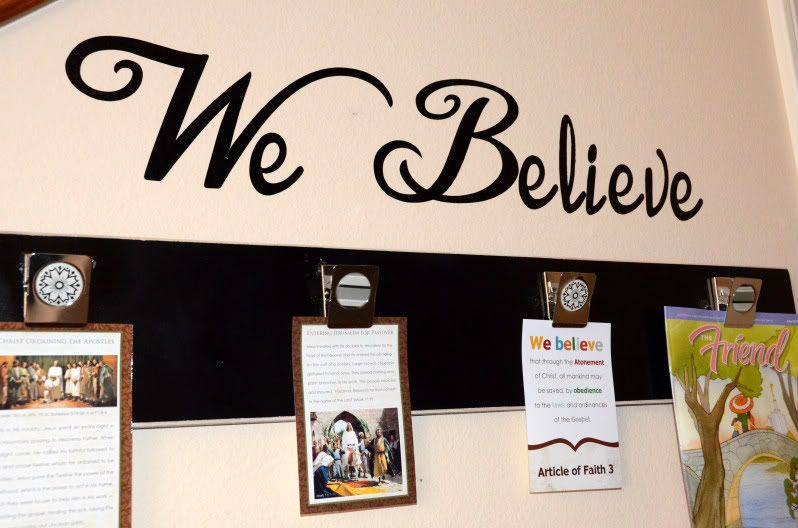 Linked to: