Chelsea and I were talking the other day about how much we LOVE decorating for Halloween. It's probably my favorite holiday in terms of decorating.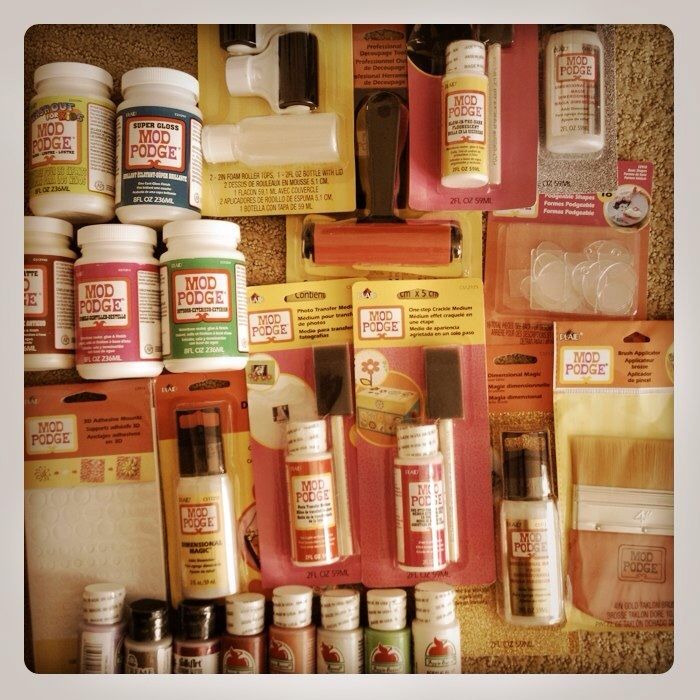 I was so excited to get this fabulous box of
Mod Podge
products to try. The Glow in the Dark Mod Podge was the first thing to catch my eye and I knew I
needed
a glow in the dark decoration in my house. :)
Items used:
4 pieces of wood 12x12
black craft paint
sand paper
images cut out on cardstock (I found some images online I wanted and used my Cricut to cut them out, but you could just as easily cut them out by hand. Here are the links for the images I used: skull, owl, bats, and spider)
Mod Podge roller
Paintbrush
Stickles
For this project I used some wood scraps leftover from a previous project. I got a large sheet of wood cut at Home Depot in 12x12in squares. I started off by giving the wood a couple good coats of paint. I found that spray paint doesn't work well on this type of wood, but craft paint works perfectly!
I applied Vintage Mod Podge to the entire surface of each board with the handy roller applicator. You can use regular Mod Podge but I like the look of the Vingate for this project. It makes the stark white cardstock a little yellow-ish and aged.
I carefully placed the images on and used a flat-edged tool (a credit card works well, too!) to smooth it down and remove any bubbles. Then I applied a second coat of Vintage Mod Podge.
Once that was completely dry I added 4 coats of Glow in the Dark Mod Podge to make sure it was nice and "glow-y".
After that was dry I added a little spider web and hour glass to the spider block. And now all that's left to do is wait for it to get dark to watch the magic happen!
So here's what my mantle looks like during the day:
And here's what happens to the blocks when it gets dark:
As my almost 3 year old twins say, "Ooooh, it's spooooky!" :)
So there you have it. A fun, easy, SPOOKY Halloween project!

I wrote this post as a part of a paid campaign with Plaid and Blueprint Social. The opinions in this post are my own.
You can find more info about Mod Podge and other Plaid products here:
Facebook: http://www.facebook.com/InspiredByPlaid

Twitter: http://www.twitter.com/PlaidCrafts

Pinterest: http://www.pinterest.c

o

m/PlaidCrafts