Welcome to another addition of Sunday Best. We love seeing everyone's Sunday outfits and we are getting some great ideas for what to wear. :)
I just love this look! I may be developing a thing for Bethany's clothes and her closet may start turning up with some things missing! Follow the link back to her blog to get a closer look at her boots- darling!
I love a good clean classic look! I love the grey, black, and light pink together! Super cute!
Here's what we wore this week:
Tank: Styles For Less
Sweater: Target
Skirt: Papaya
Scarf: Victoria's Secret
Shoes: Discount Shoe Factory
-marie
Dress
: Downeast
White shirt
: Old Navy
Infinity scarf
: Target
Boots
: Discount Shoe Factory
Watch
: made by me
HERE
-chelz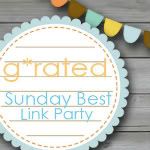 RULES:
1. Link to a specific, clothing-related post on your blog.
2. Add the g*rated button to your post.
3. Make sure you check out other links to get ideas. And no one would mind if you left a comment on their blog. :)
4. Follow g*rated.