Welcome to our first ever
Sunday Best Link Party
! We are so excited to be hosting and so excited to see all the cute Sunday outfits you link up so we can get new ideas. :)
Here is what we wore to church this week:
Pencil skirt-
Urban Wear
Black wrap top
- old
Hot Pink Tights
- F21
Booties
- Discount Shoe Factory
Necklace
- 99 cent store
Bracelets
- Burlington
-chelz
White Shirt: Kohls
Sweater: Styles For Less
Belt: Urban Wear
Skirt: Papaya
Shoes: Discount Shoe Factory
Necklace: 99cent store
-marie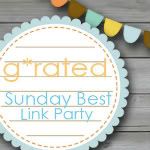 RULES:
1. Link to a specific, clothing-related post on your blog.
2. Add the g*rated button to your post.
3. Make sure you check out other links to get ideas. And no one would mind if you left a comment on their blog. :)
4. Follow g*rated.