Welcome to another week of Sunday Best. Can't wait to see what you wore this week!
Here are our favorites from last week:
Love her belt! It is such a cute, classic outfit!
Love the Black and White look and love this blazer!
This look is so cute! The details on this skirt are amazing and it was thrifted! Check out her other amazing outfits she got during her shopping trip!
Tank: Styles For Less
Cardigan: gift
Belt: thrift store
Dress: Target
Bracelets: Styles For Less
Shoes: Discount Shoe Factory
Skirt- Old Navy
Top- F21
Hot Pink Tights- F21
Shoes- Discount Shoe Factory
Necklace- F21
Bracelet- Burlington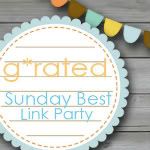 RULES:
1. Link to a specific, clothing-related post on your blog.
2. Add the g*rated button to your post.
3. Make sure you check out other links to get ideas. And no one would mind if you left a comment on their blog. :)
4. Follow g*rated.